---
We produce organic dried bananas, Hawaiian awa root, honey, and a variety of fresh fruits & veggies!
The farm at Puu O Hoku produces certified biodynamic and organic dried bananas, fresh frozen Hawaiian 'awa root, honey, and a wide variety of other fresh fruits and vegetables. You can find our farm products on the shelves at specialty stores in the islands, at the weekly Moloka'i farmers market, or at our ranch store. Not in Hawaii? Looking for wholesale orders? You can call us directly or place an order through our
online store
. See below for more details on each of our offerings.
---
Biodynamic farming creates healthier food and healthier farmland.
Why biodynamic? When Ellen Spruance started the garden at Pu'u O Hoku thirty years ago, we noticed that her biodynamic practices enhanced the soil and the atmosphere, and the vegetables and fruits she grew were the most delicious we had ever eaten. Over time, with her guidance, we have come to better understand the complex practices of biodynamic farming, and we believe it creates healthier food and healthier farmland. We also find that biodynamics resonate with the Hawaiian view of the 'aina as a spiritual entity, and connects us with the community of regenerative farmers on our island of Molokai.
---
Our bees roam 14,000 acres of pristine land and native forests, feasting on wild flora and our organic, biodynamic crops, free of the blights that have imperiled their species in many parts of the world. In tests, our honey shows absolutely no pesticide residues, making it some of the only truly uncontaminated honey in the world. We're also dedicated to protecting our bee population. Because of the risk of disease, bees cannot be imported to Hawaii, but our isolation means that thousands of now wild, genetically diverse hives remain on the island, providing a unique and resilient stock of bees for our hives. Our honey is available in 4.5 oz. and 12 oz jars and can be purchased online, in our ranch store, and at stores across the U.S (including Friendly Market and 
Patagonia
).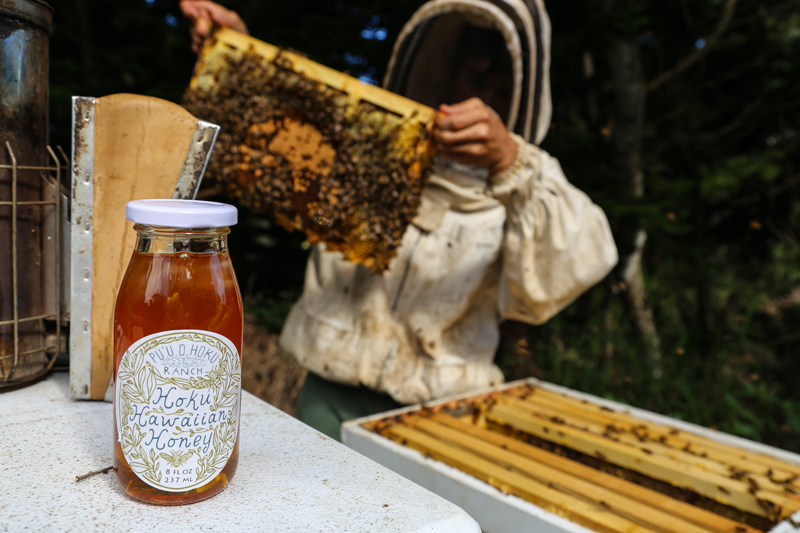 ---
Our delicious dried bananas are made from the tiny apple banana, an unusual variety known for its sweet flavor. These chewy treats make a tasty snack for hiking or lunchboxes, and are great chopped up and added to granola, yogurt, or your favorite muffin recipe. You won't find anything else like them on the market -- they're nothing like the dry, chalky banana chips you may have tried before. Order them online, or find them at the ranch store; around Molokai at Coffees of Hawaii, Hula Bean Cafe, Friendly Market,
Kalele Bookstore
, and the Sustainable Molokai Food Hub; on Oahu at
Banán
, and Down to Earth on Oahu.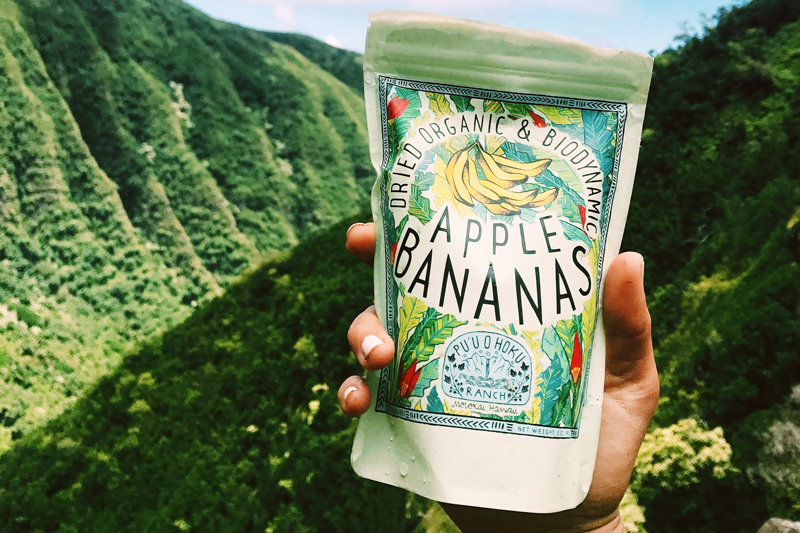 ---
Pronounced "ah-va," 'awa is the Hawaiian name for the Polynesian medicinal plant many know as kava kava. Traditionally prepared as a tea or tincture and used ceremonially for conflict resolution among Polynesian royalty, 'awa is now widely consumed as a nutraceutical that eases pain and stress. Puu O Hoku Ranch offers 'awa in the form of fresh frozen root pulp, a preparation that produces a drink more potent and smoother than powdered 'awa. We specialize in Hawaiian varietals, which have been found to have particularly high levels of the active compound kavalactone, and our product has been praised by connoisseurs throughout the islands as the most premium 'awa available. Order it online, stop by our ranch store, or try it by the cup at Da Cove Health Bar in Honolulu.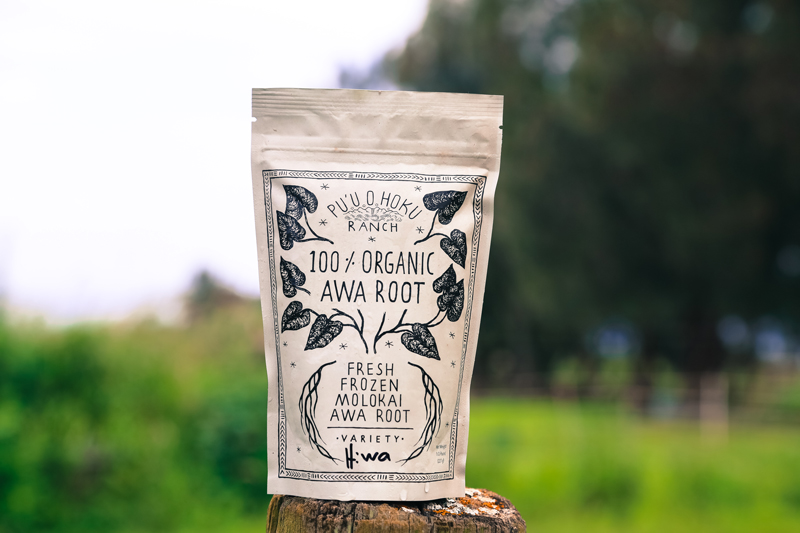 ---
Guests at the ranch cottages can request fresh produce boxes and fresh beef or venison to cook with during their stay. We work with our own and other local farmers to supply food and locate just the right chef to cater retreats at the lodge -- if your group has a special menu in mind, with enough lead time, we can grow it!